This weekend at the Iowa Summer Writing Festival, I taught one of my favorites: Creative Writing from Research. If this sounds like a boring class to you, don't worry, I actually agree with your instincts -- the word research tends to evoke the image of stale library stacks and teachers tapping their hands with rulers. But no more! I think of writing from research as punk-rock, rule-bending, wild times.
Below is a class syllabus and some examples of student work from the weekend.
Erasure Poems from Newspapers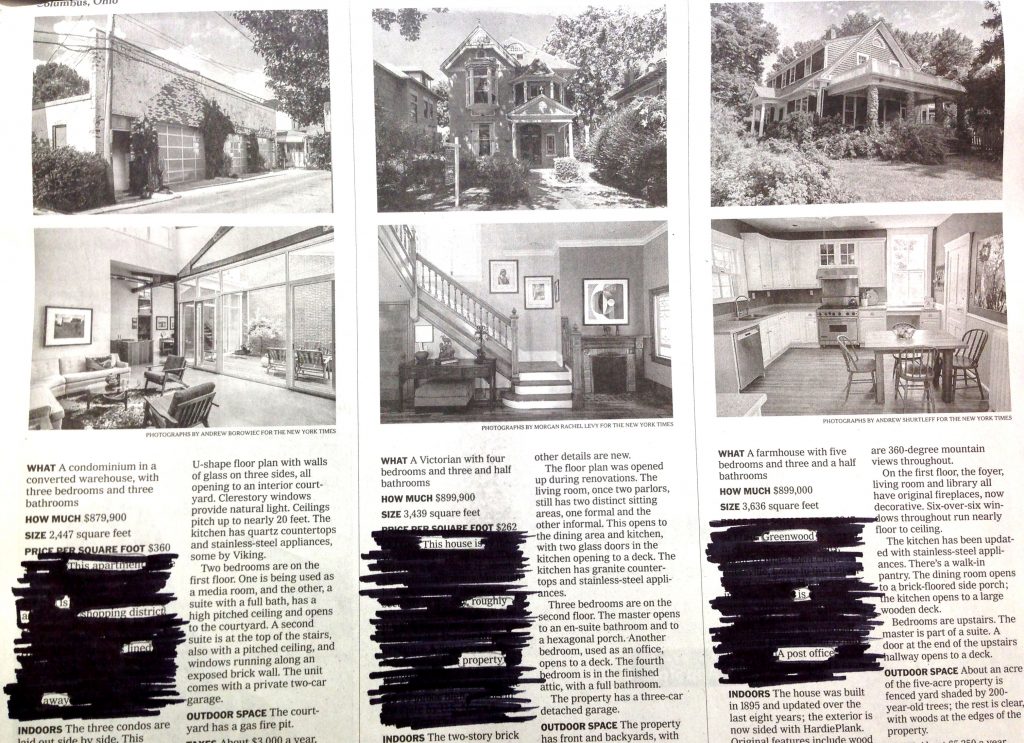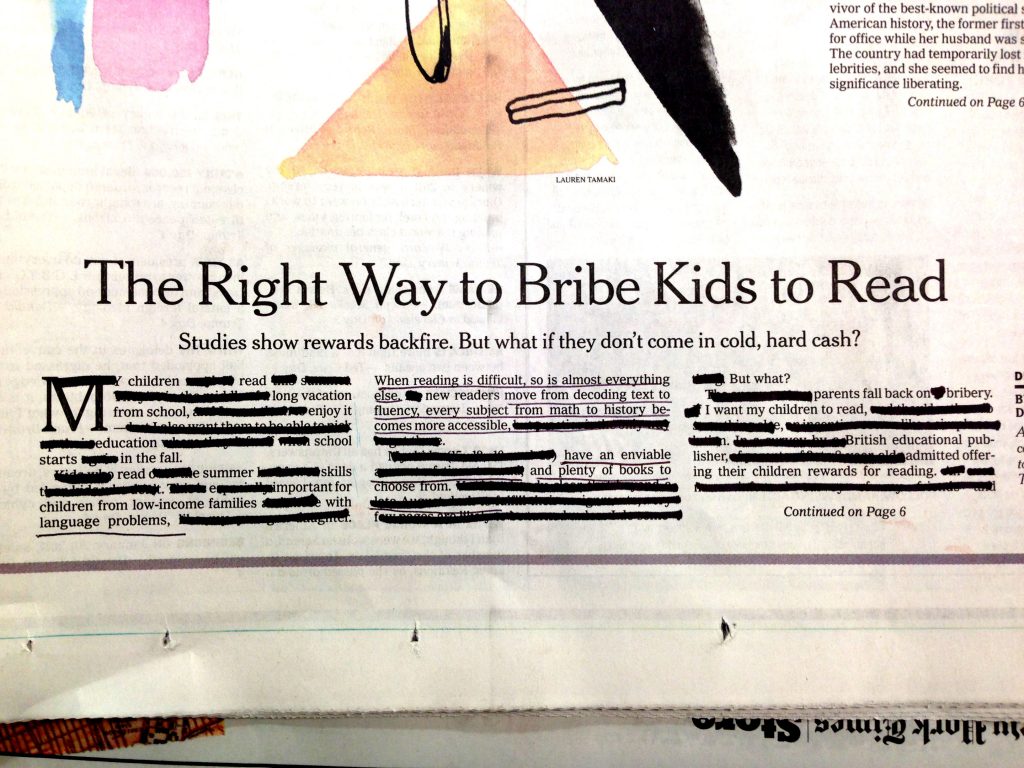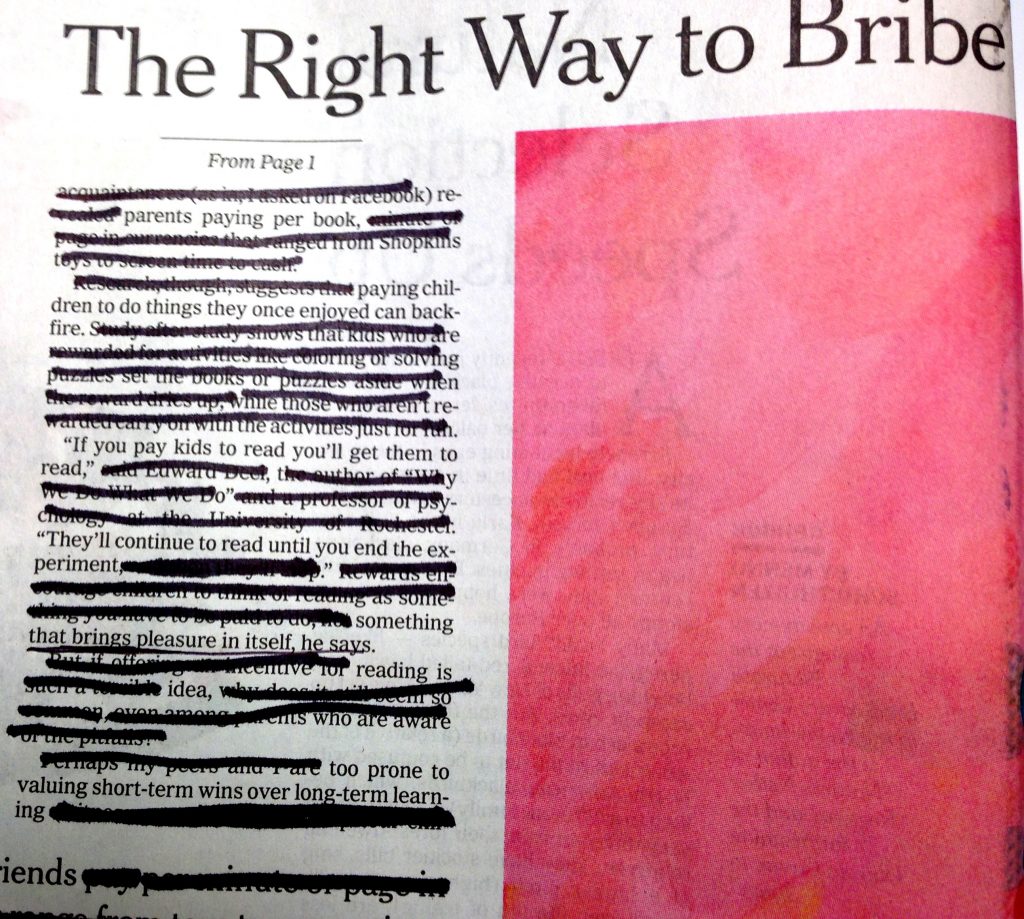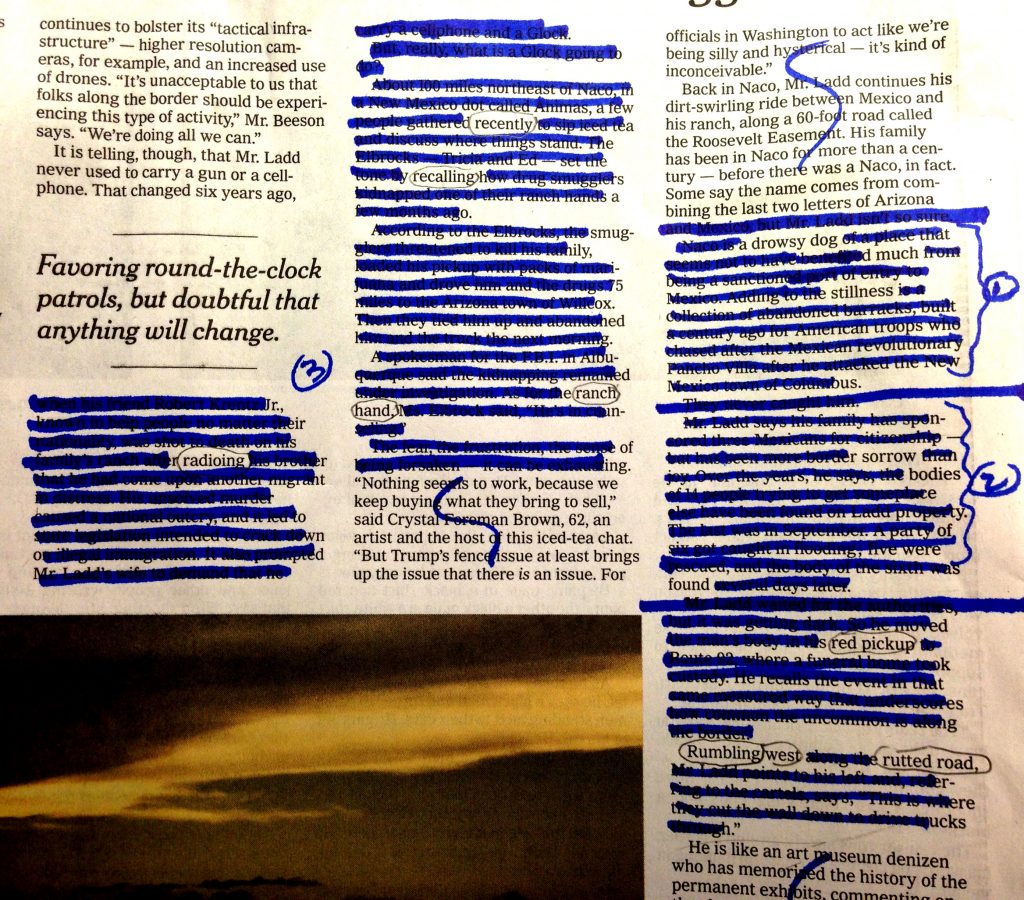 Great work, right?
Class Syllabus
MIXOLOGY: WRITING FROM RESEARCH (WITH A TWIST)
Reusing information, Being guided by information, Making information new again
DAY ONE 
Class Schedule
10:00 -- Introductions
10:30 -- Discussion of research gathering techniques, creative writing hybrid forms (poetry/fiction/nonfictions) and stretching the bounds of each genre by using research.
Reading: Examples and discussion
Claudia Rankine, Citizen
Maggie Nelson, Bluets
11:00 -- First exercise: Found Poetry as Research. You will be given a random sheet of text from a library reference book (Origin of Phrases, 1,001 Facts, etc). From that sheet, gather phrases, ideas and inspiration and write a short poem or narrative from the text. Time: 45 min.
11:45 -- Sharing work. Share work from the writing exercise.
12:00 -- Lunch
2:00 -- Second Exercise: Field Research. We will take a short field trip to a nearby location (a museum or historical display) to gather images, text, audio and sensory experimentation.
3:00 -- In Class Writing: After returning from the field trip, you will have 30 minutes to write from your findings.
3:30 -- Sharing work. Share work from the writing exercise.
4:00 -- Dismissal
DAY TWO
Class Schedule
9:00 -- Reading: Erasure. We will look at the technique of erasure, including Mary Ruefle, Austin Kleon, and various other poets.
Austin Kleon:
http://austinkleon.com/2014/04/29/a-brief-history-of-my-newspaper-blackout-poems/
http://austinkleon.com/wp-content/uploads/2014/03/ebook-screenshot.jpg
Mary Ruefle:
http://www.gwarlingo.com/the-debut-of-mary-ruefles-melody-the-story-of-a-child/
From Snow City:
http://www.poetryfoundation.org/harriet/2012/02/from-snow-city/
We will also look at the Erasure Machine from Wave Books and possibly use this tool to make an erasure together as a class. (http://erasures.wavepoetry.com/erasures.php?sourceid=9)
9:30 -- Third exercise: Erasures from Intentional Research. You will now use a local newspaper and make an erasure poem. Second round: You will use a piece of zeroxed text to create a poem or short-short story, using the technique of erasure. Time: 45 min.
10:15 -- Sharing work and Q/A
11:00 -- Lunch
1:00 -- Fourth Exercise: Choice. You choose from one of the first three exercises and create another in-class writing piece. Time: 45 min.
1:45 -- Finalizing Work: We will spend the rest of the class time finalizing the work that we have created.
3:00 -- Dismissal
---